FULL FILM PROGRAM
All movies in Spanish with English subtitles

Thursday, November 16th, 2017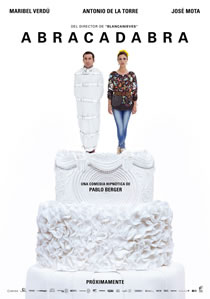 7:30 PM OPENING NIGHT
ABRACADABRA
A Hypnotic comedy by Pablo Berger!
DIR.: PABLO BERGER
CAST: MARIBEL VERDÚ, ANTONIO DE LA TORRE, JOSE MOTA
PRODUCERS: ARCADIA MOTION PICTURES S.L, PEGASO PICTURES, PERSEFONE FILMS
USA DISTRIBUIDOR: SONY PICTURES
Shortlisted for the best foreign-language film for the Academy Awards.
When a housewife (Maribel Verdú) discovers a spirit that has possessed Carlos, her husband (Antonio de la Torre), she embarks on a comic and terrifying mission to bring him back with the help of his cousin Pepe (José Mota) a hypnotism amateur.
Q&A after the movie with filmmaker Pablo Berger.



Friday, November 17th, 2017
PANEL DISCUSSION at CCEMiami at 5PM
With actors and directors attending this year's Recent Cinema from Spain series.
This is a free event – first come, first serve. In Spanish.
At Centro Cultural Español in Miami, 1490 Biscayne Blvd, Miami, FL – 33132 (this event only at CCEMiami)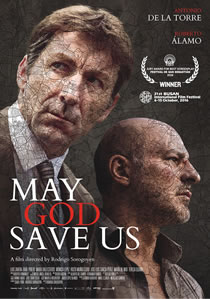 6:45PM MAY GOD SAVE US - QUE DIOS NOS PERDONE
A suspenseful serial killer hunting in summertime Madrid!
DIR.: RODRIGO SOROGOYEN
CAST: ANTONIO DE LA TORRE, ROBERTO ÁLAMO, JAVIER PEREIRA
PRODUCERS: TORNASOL FILMS Y ATRESMEDIA CINE
INTERNATIONAL SALES AGENT: LATIDO FILMS
Madrid, summer 2011. Economic crisis. 15-M movement and 1.5 million pilgrims waiting for the Pope's arrival live side by side in a Madrid that's hotter and more chaotic than ever. In this context, detectives Velarde and Alfaro must find what seems to be a serial killer. Their up against-the-clock hunt will make them realize something they'd never imagined: neither of them are so very different from the killer.
Q&A after the movie with actor Javier Pereira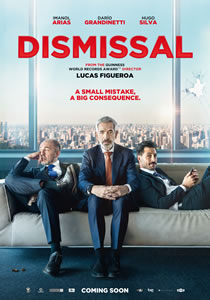 9:45PM-DISMISSAL-DESPIDO PROCEDENTE – U.S. Premiere
Action Comedy with an amazing ensemble cast!
DIR: LUCAS FIGUEROA
CAST: IMANOL ARIAS, HUGO SILVA, DARÍO GRANDINETTI
PRODUCER: MR MONKEY
DISTRIBUTOR: FILMFACTORY
Imanol Arias, Dario Grandinetti and Hugo Silva starring in a dark comedy about the dark side of big corporations. Can a good person survive in a big firm?
Javier (Imanol Arias) a Spanish expatriate executive in Argentina makes a fatal mistake ... he gives wrong directions to Rubén (Dario Grandinetti), an unknown passerby walking through the door of the building where Javier works. This anecdote provokes the fury of Rubén, who, having followed these incorrect directions, loses the job offer of a lifetime



Saturday, November 18th,2017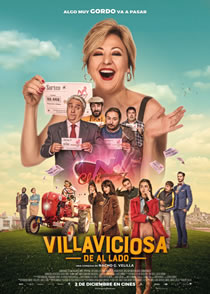 6:45PM- A STROKE OF LUCK (VILLAVICIOSA DE AL LADO) – Miami Premiere
A box office hit in Spain!.
DIR: NACHO G. VELILLA
CAST: CARMEN MACHI, MACARENA GARCIA, CARLOS SANTOS
PRODUCERS: ATRESMEDIA CINE Y APARTE FILMS
INTERNATIONAL SALES AGENT: FILMSHARKS INTERNATIONAL
Inspired by actual events, this delightful comedy with a colorful cast is one of Spain's biggest box office hits of the year. The small town of Villaviciosa de al Lado is teetering on bankruptcy when salvation arrives in the form of a huge lottery prize and the accompanying national attention.
Q&A after the movie with actor Carlos Santos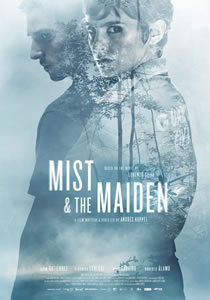 9:45PM - THE MIST & THE MAIDEN-LA NIEBLA Y LA DONCELLA- U.S. Premiere
An intriguing, dark and mysterious thriller!
DIR: ANDRÉS M. KOPPE
CAST: QUIM GUTIÉRREZ, AURA GARRIDO, VERÓNICA ECHEGUI
PRODUCERS: TORNASOL FILMS Y ATRESMEDIA CINE
INTERNATIONAL SALES AGENT: LATIDO FILMS
'La niebla y la doncella' investigates the mystery of a young man whose corpse is found in a forest on the island of La Gomera. Sergeant Bevilaqua (Quim Gutiérrez) and his assistant Corporal Chamorro (Aura Garrido) are sent to the island to revive the investigation together with Corporal Anglada (Verónica Echegui), the last one who saw the young man alive.



Sunday, Nov 19th,2017- Closing night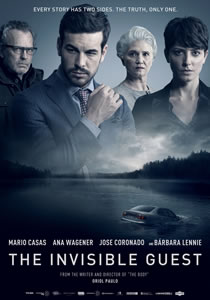 7:30PM-THE INVISIBLE GUEST (CONTRATIEMPO) - Miami Premiere
A crafted thriller that keeps you engaged and breathless!
DIR.: ORIOL PAULO
CAST: ANA WAGENER, MARIO CASAS, JOSE CORONADO
PRODUCERS: ATRESMEDIA CINE / THINK STUDIO / NOSTROMO PICTURES / COLOSÉ PRODUCCIONES
INTERNATIONAL SALES AGENT: FILMFACTORY
With strong performances and plenty of plot twists, this superbly crafted thriller shows us a successful businessman who has been discovered in a hotel suite with the body of his lover. Charged with murder, he enlists top-notch witness preparation expert Virginia Goodman.




Special musical performance by Mastretta
Spain's Mastretta Orquestra is celebrating 10 years of making music and live performance. Mastretta's 10 musicians all alternate as soloists - taking turns carrying the lead, and jumping from one genre to the other.
The magic of this group lies between the score and the improvisation; creating their joyful dance music. Mastretta's closing night jam is a perfect cap on our 7th Annual Recent Cinema From Spain series.
Join us and celebrate Spanish talent, cinema & music!

Ticket Prices
· Opening Night: November, 16TH: $19.00
· Festival Screenings: November, 17th- 19th: $15.00
· Festival Series Pass (6 Screenings) November 16th - 19th: $60.00. ($55.00 base price + $5.00 ORD Fee)
Box Office Hours
At the OLYMPIA THEATER
· Regular Office Hours M-F: 10:00 AM-6:00 PM, Phone 305-374-2444
After Hours Box Office Call Center 888-841-2787 Press Option 5
· Flagler Street Box Office is open 90 minutes before film
Buying Tickets
Tickets are on sale at the box office at the OLYMPIA THEATER: 174 E. Flagler Street. Miami, FL 33131.
Tel: 305-374-2444 or on www.olympiatheater.org Online tickets 24/7. The After Hours Box Office Call Center is 888-841-2787 Press Option 5
Parking
VALET: $15.00. Drop is across the street from Olympia Theater. 145 E. Flagler Street. Operated by D.E.C. Parking.
Free Flagler Parking. Available every evening on Flagler Street from Biscayne Boulevard to W. 1st Avenue (valid 6 pm-7 am).
$5 VALIDATED PARKING: Available at Miami Parking Authority CONVENTION CENTER GARAGE-JAMES L. KNIGHT CENTER GARAGE (Garage 4) 100 SE 2nd Street, get your $5 validation from the LOBBY BAR inside the Olympia Theater.
GENERAL PARKING. Olympia Theater is located in the heart of downtown Miami with nearby access to metered street parking as well as many public and privately owned parking lots and garages.
EPIC HOTEL-HOSPITALITY SPONSOR

Special discount for guests attending Recent cinema from Spain
To make reservations go to www.epichotel.com & use rate code RCFS.
Located just a couple of blocks from EPIC's front door is the historic Olympia theater,host of Recent Cinema from Spain film series.